Cattle disease surveillance
If you have found something new, unusual, severe, or unresponsive in relation to cattle diseases, please contact the CEG veterinary lead or your nearest Veterinary Investigation Centre.

Please note: if you suspect a notifiable disease you must contact APHA immediately.
Explore the diagnoses made by the GB surveillance network through the interactive cattle disease surveillance dashboard.
Cattle Expert Group (CEG) veterinary lead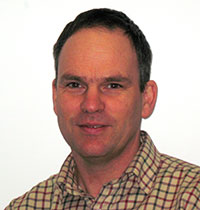 The CEG veterinary lead is Gareth Hateley (0208 5654357).
Gareth has been the CEG veterinary lead since April 2014. He leads the Defra-funded cattle disease scanning surveillance project in APHA,is a past President of the British Cattle Veterinary Association, and is currently a member of the British Veterinary Association Scottish Branch Council. Gareth also represents APHA on the Cattle Health and Welfare Group (CHAWG) and the Cattle Health Certification Standards (CHeCS) technical committee. He is Vice-Chair of BVDFree England, and Chair of its Technical Group.
CEG members
To support the CEG veterinary lead, the group has representation from Veterinary Investigation Officers from APHA and SRUC Veterinary Services representatives. In addition, there are APHA members on CEG providing expertise for specific disciplines (e.g. epidemiology, virology, parasitology) and specific diseases (e.g. BVD). There is also representation from those involved in International Disease Monitoring in APHA.
CEG non-APHA members include representatives from:
CEG collaboration
CEG also collaborates closely with:
CEG surveillance reports
CEG contributes interesting and unusual bovine cases, highlights bovine disease alerts or findings and provides focus articles relating to cattle for the APHA Veterinary Record monthly disease surveillance report. These are compiled together with contributions from other Species Expert Groups.
Quarterly GB Cattle Disease Surveillance and Emerging Threats reports are compiled by CEG. They summarise investigations into threats and other surveillance issues to inform governments, the veterinary profession and livestock farming industries of new or re-emerging threats to cattle health or changing trends among existing ones.
Recent Interesting Cases
GB cattle disease quarterly report: disease surveillance and emerging threats – April-June 2020
Hot and dry weather affected forage harvesting; potential for increased nematode parasitism as a sequel to this weather
Outbreak of concurrent tick borne fever (Anaplasma phagocytophilum infection) and redwater (Babesia divergens infection) in a dairy herd
Epistaxis in dairy cows associated with mycotic and BVD infections
Pica in grass-based dairy herds
GB cattle disease quarterly report: disease surveillance and emerging threats – January-March 2020
Rupture of the cranial mesenteric/coeliac artery in dairy cows
Vertebral malformation in a dairy calf
Type II Ostertagiosis in housed heifers
GB cattle disease quarterly report: disease surveillance and emerging threats – October-December 2019
Salmonella Dublin osteomyelitis
Acute paramphistomosis
Ergotism in suckler cattle
Lysosomal storage disease in a Galloway calf
Changes in the percentage of submissions diagnosed with Johnes disease and fasciolosis
GB cattle disease quarterly report: disease surveillance and emerging threats – July-September 2019
Infectious Pustular Vulvovaginitis outbreak
Leptomeningitis caused by Mycoplasma bovis
Salmonellosis associated with S. Typhimurium RDNC 3225
Abomasitis with abomasal bloat
Population information
Enhanced Demographic Reports
Disease information
Information notes and alerts on specific diseases or conditions:
Videos
The following videos were created by APHA on bluetongue, a notifiable disease which can affect ruminant animals:
Further information (external links)