You are here:
VETQAS news
News items
New Microbiology Proficiency Testing Schemes - 29 January 2018
Contract renewal: Order your 2018/19 Proficiency Testing Schemes online now - 29 January 2018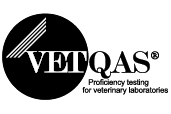 Vetqas launch new anthrax training aids - 28 February 2017
Interest in new proficiency testing schemes?
Published 28 May 2015
Previous news is available on the AHVLA Scientific archived pages on the National Archive website.
VETQAS newsletters
VETQAS newsletters will contain useful information and updates on new schemes.
Please click on the links below to view the newsletters.
VETQAS case history leaflet
Page last modified: 4 December 2018