About VETQAS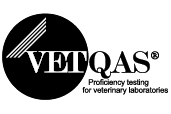 APHA's independent Quality Assurance unit based at Sutton Bonington, near Loughborough, Leicestershire. It is the market leader in proficiency testing for veterinary laboratories, with over 40 years experience in the field and is an accredited proficiency testing provider (ISO/IEC 17043 – Conformity Assessment – Guidelines for Proficiency Testing)
The Proficiency Testing schemes we offer help provide testing laboratories with the evidence necessary to prove that their tests meet third party accreditation quality standards. Participation in a PT scheme shows a commitment to improving performance, which is of commercial value in maintaining a good reputation for delivering reliable and accurate results. It is an independent and confidential verification of the testing process.
Inter-laboratory comparability, amongst national and international participants, within many schemes is an important factor which can be assessed to highlight consistencies between laboratories.
VETQAS® is the international market leader in Proficiency Testing (PT) for veterinary laboratories. It is a UKAS accredited proficiency testing provider No. 0004. Please view schedule of accreditation.
For further information on PT schemes, VETQAS and scheme use please see the VETQAS leaflet and our FAQs page.
Appeal for sourcing material
Sourcing suitable material, such as sera, can be difficult. If you are able to offer any new material that could be used in any of our VETQAS Proficiency Testing schemes, please see the sourcing material page for more information.
Page last modified: 4 December 2018