Culture collection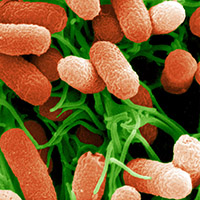 APHA Scientific offers a wide range of bacterial and viral isolates to support your studies and research.
The collection contains a large number of current field strains from a wide geographical area within the UK and many of the isolates are associated with clinical data.
The bacterial collection represents typical and atypical isolates from respiratory, enteric, mastitic and other diseases.
We have collected over 15,000 isolates including:
Over 500 Pasteurella multocida strains.
Over 4,500 E.coli strains.
Over 1,000 Salmonella species.
More than 1500 common mastitis pathogens.
We also have over 1,500 anaerobes of 15 genera identified to species level.
These include:
Brachyspira.
Clostridia.
Fusobacteria.
Bacteriodes species.
Many of these isolates already have established sensitivity profiles, so we can selectively test organisms of known characteristics.
We can provide you with collections of recent isolates to meet your requirements and can collect isolates if you have a specific need not covered by the current collection.
We also offer an antimicrobial susceptibility testing service. For more information please visit our antimicrobial resistance testing page.
Page last modified: 23 January, 2019