Bacterial and Viral Culture collections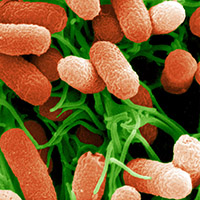 APHA Scientific offers a wide range of bacterial and viral isolates to support your product developments and research.
The collection contains a large number of current field strains from a wide geographical area within the UK and many of the isolates are associated with clinical data.
Many of these isolates already have established sensitivity profiles, so we can selectively test organisms of known characteristics.
Virus Collection
We have a large collection of characterised virus suitable for the veterinary scientific community. This vital archive of pathogens helps researchers understand disease and ultimately protect animal health.
APHA is part of the EVAg platform which is an international network of high calibre centres representing an extensive range of virological disciplines. APHA offers over 150 viruses and related products through EVAg. These viruses can be ordered online and shipped globally.
Bacterial collection
The bacterial collection represents typical and atypical isolates from respiratory, enteric, mastitic and other diseases.
We have collected over 15,000 isolates including:
Over 500 Pasteurella multocida strains.
Over 4,500 E.coli strains.
Over 1,000 Salmonella species.
More than 1500 common mastitis pathogens.
We also have over 1,500 anaerobes of 15 genera identified to species level.
These include:
Brachyspira.
Clostridia.
Fusobacteria.
Bacteriodes species.
We can provide you with collections of recent isolates to meet your requirements and can collect isolates if you have a specific need not covered by the current collection.
We also offer an anti-microbial susceptibility service using several minimum inhibitory concentration (MIC) assays, performed under ISO 17025.
Up-to-date profiles for a wide range of currently marketed or research antimicrobials are available and are suitable for product registrations or marketing. For more information please visit our antimicrobial resistance testing page.
Page last modified: 1 October, 2020