Vaccine development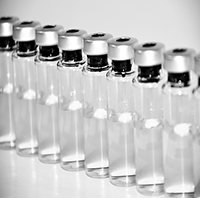 APHA Scientific can help you with each stage of your vaccine development. Our services range from generating data during the initial product development right through to batch release testing on the finished product.
We have a wealth of experience of in-vitro and in-vivo techniques and can work on a wide range of organisms including those which require high security containment.
The service includes:
Primary research
Antigen development
Testing for attenuation
Antibody and antigen detection
Extraneous agents testing
Efficacy and safety testing
Our microbiology unit can test starting materials for extraneous agents and purity including substances of animal origin, cell lines and bacterial and viral master seeds. It can also provide a comprehensive service for testing batches of vaccine for safety and efficacy in support of market authorisation, as well as, batch release testing of approved products.
Many of these services comply with Good Laboratory Practice, Good Manufacturing Practice and Good Clinical Practice (veterinary) as well as ISO17025 and ISO9001.
APHA Scientific also offers a wide range of animal disease challenge models for testing the efficacy of experimental vaccines to support market authorisation and batch testing. The challenge models include bacterial, viral and parasitological animal diseases.
Further information is available in the Vaccine Development brochure.
Page last modified: 25 August, 2022