Research & development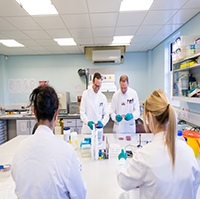 Our R&D and consultancy service covers the entire spectrum of research activity including:
Early stage discovery and novel research.
Translational and applied research.
Reference studies.
Efficacy and safety studies.
New research tools, techniques and methodologies.
Project management.
This world-class service is delivered with the support of our leading experts, excellent laboratory facilities and access to an international network. Our integrated multi-discipline approach can add value to your project and help you achieve your research objectives
APHA is an R&D partner you can trust. It represents a long-term and reliable partner with a rich scientific history and an assured future.
We are innovative and pioneering, and our investment in developing our expertise, capabilities and facilities places us at the forefront of technology development.
Committed to high quality standards for our science and colleagues, our quality systems include ISO 9001, ISO 17025, Good Laboratory Practice, Good Manufacturing Practice and Investors in People.
With a recognised track record of delivering on time, we can offer expert project management and co-ordinate research programmes to the highest standards.
APHA has particular expertise in developing multiplex diagnostic tests, including molecular arrays, a number of which that have been successfully commercialised by leading diagnostic companies. APHA is actively seeking collaborations with universities, public sector institutes and companies to develop and commercialise new multiplex assays for veterinary and/or clinical diagnostic uses.
Page last modified: 5 August, 2020