You are here:
Antimicrobial resistance testing
Antimicrobial resistance testing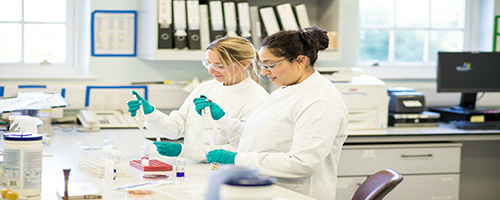 APHA Scientific can provide up-to-date profiles for a wide range of currently marketed or research antimicrobials. We can carry out comparative studies between different antimicrobials and changes in resistance profile over time. These are suitable for product registrations, claim extensions or marketing.
Our tests are performed under ISO 17025. This ensures your data is of the highest standard of quality, impartiality and credibility for your customers and regulatory authorities.
Testing services
APHA has centres of expertise dedicated to antimicrobial testing and anaerobic work. Our techniques are continuously updated to ensure they are in keeping with advances in the human field as well as veterinary specialisation.
We routinely offer several minimum inhibition concentration (MIC) assays:
Agar plate and broth dilution MICs
Disc diffusion sensitivity by zone size
Sensititre MIC
All these conform to British Society for Antimicrobial Chemotherapy (BSAC) or Clinical and Laboratory Standards Institute (CLSI) standards.
We can provide quotes for other methodologies according to your requirements.
Bacterial isolates
To support these services, We maintain over 29,000 recent and historic bacterial isolates of large animal pathogens. This extensive collection includes both common and less common anaerobes from all livestock species.
For more information on our culture collection service, please see our pages on culture collection.
For further information please contact our Laboratory Services Team
Tel:  +44 (0)1284 724499
Fax:+44 (0)1284 724500
Email: BurySt.Edmunds@apha.gov.uk
Page last modified: 6 August, 2020