VETQAS PT contract administration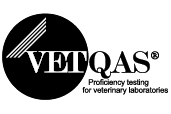 VETQAS contracts and administration
VETQAS contracts and administration
Q: What details do we need from you to set up a contract?
A: We can record up to three separate contact details for each customer if necessary. All three sets of details can be the same or all may be different.
Customer – the contact details of the person organising your proficiency testing.
Invoice – where you want us to send your invoice.
Participant – the PT samples will be posted to this address.
Please email above details to VETQAS@apha.gov.uk and full instructions will be provided.
Q: What is a contract year?
A: A contract years starts on 1st April and ends on 31st March.
Q: Do I have to provide a Purchase Order number?
A: No, but some companies, institutions require us to quote a Purchase Order number on our invoices. Please check with your account department and, if they require a PO number on invoices, please add when ordering.
Q: What is the Acknowledgement of Order and Online Approval?
A: The Acknowledgement of Order together with the standard terms & conditions is your contract with VETQAS to provide you with proficiency testing services, which is emailed to your for a signature.
Online approval is your confirmation email after you have accespted our terms & conditions and ordered your PT Schemes through the online portal.
Q: What is the Participant Details Sheet?
A: The sheet lists the PT schemes allocated to a Lab ID number and the contact details that will be used when shipping the samples. If you have more than one participant on your contract there will be a separate Participant Details sheet for each one.
Q: Can I have more than one contact person?
A: For each customer we can record one set of contact details for each of the following -
Customer contact details – the name and address of the person responsible for your contract.
Invoice contact details – your invoice will be posted to this name and address.
Participant details – the PT samples will be sent to this name and address.
The primary participant is emailed the login username and password, and any automated notification emails about dispatch of samples or issuing of final reports.
The secondary participant is emailed any automated notification emails about dispatch of samples or issuing of final reports only.
Q: My contact details have changed, how can I update them?
A: Please use the online portal options to update your details or email us at Vetqas@apha.gov.uk.
Q: I would like to add a new scheme to my contract but we are part way through the contract year, is this possible?
A: Yes. please use the online portal to order your new scheme or email us at Vetqas@apha.gov.uk.
Q: How and when should we apply to participate next year?
A: We email contract renewal notifications to all our existing customers by February for the next contract year starting in April.
Q: VETQAS have withdrawn a scheduled distribution, can I have a refund?
A: If we have to withdraw a distribution we will usually re-schedule it for a later date. In the unusual circumstance that we cannot re-schedule we will issue a credit note on your APHA account to cover the cost of that distribution and any associated postage costs.
Q: I want to cancel my contract; can I get a refund for distributions I have not received?
A: By returning a signed Acknowledgement of Order or accepting the standard terms & conditions when ordering online you are entering into an Agreement with the Secretary of State for Environment, Food and Rural Affairs (Defra), acting through the Animal and Plant Health Agency (APHA), for the Provision of PT services.
If you later decide to cancel your contract for any reason, or withdraw from a scheme, we will not issue a refund.
In the event of full contract cancellation your Science Services login account will be locked after seven days and you will no longer have access to results or tabulated reports. You should print off any results/reports that you may need to refer to in the future.
Invoicing and payments
Q: How / when will I be invoiced and how can I pay?
A: You should receive your invoice by post within approximately six weeks of returning your signed Acknowledgement of Order. Invoices are issued by our Finance Department and the invoice contains full details of how to pay. Please do not arrange payment until you have received the invoice. You must quote your APHA customer number and the invoice number when making a payment so that the payment is correctly allocated to your account.
UK customers can pay by Visa, Mastercard or debit card, BACS payment or crossed cheque.
Non-UK customers can pay by Visa, Mastercard or Debit Card, a telegraphic bank transfer or a cheque or bankers draft issued on a UK Clearing Bank. All amounts quoted on our price list and on our invoices in UK pounds sterling (GBP£). Payment must be paid in GBP£. Unfortunately we are not able to accept foreign currency/EURO payments. All bank charges and expenses must be met by the company paying the invoice so that the payment we receive in the APHA bank account is the full amount on the invoice. Our full banking details are available below:
Account name: Animal and Plant Health Agency
Bank name: National Westminster Bank PLC
Bank address: Government Banking Service Branch, 2nd Floor, 280 Bishopsgate, London, EC2M 4RB
Bank sort code: 60-70-80
Bank account number: 10004718
Swift/BIC code: NWBKGB2L
IBAN: GB28NWBK60708010004718
VAT number: GB 888 8001 81
NOTE: For annual contract renewals – invoices will not be issued until after 01 April.
Q: Will VAT (Value Added Tax) be added to my invoice?
A: UK customers will have VAT added to their invoice unless they are Zero-rated or have provided an Exemption Certificate. VAT will not be added to invoices for non-UK customers as the provision of Proficiency Testing services to customers outside the UK is outside the scope of UK VAT. If you need us to quote your VAT number on your invoice please provide it when ordering.
Q: I have a question about my invoice / my payment, who should I contact?
A: All financial enquiries are dealt with by our Finance Department. Please use the contact details on the invoice or email Income.aph@sscl.gse.gov.uk quoting the invoice number and your customer account number from your invoice.
Delivery of VETQAS PT samples
Q: How will my samples be delivered?
A: There is a column on our price-list that indicates the overseas delivery method for each scheme. At the end of the price list you can find details of the current costs for courier delivery (C), courier delivery in a Biofreeze Bottle (B) and delivery on dry-ice (D). Parcels sent by courier are tracked and delivery is usually 2-3 days. Samples to UK customers are posted by Royal Mail.
Q: Do I need an import permit for my PT samples?
A: The need for an Import Permit will vary depending on the type of samples and the Customs requirements of your country. We recommend you check with your local Customs office and follow their guidelines. If you do need an Import Permit it is your responsibility to make sure we have a valid copy of the permit several days before your samples are due to be shipped. You should also let us know if any additional documents are required to help the sample parcel clear through Customs as quickly as possible. VETQAS is not responsible for non-delivery of samples due to insufficient import/Customs documents being provided by the participant.
Please note that if we have been notified that a permit is required, but we do not receive it in time for the scheduled distribution date, the samples will not be shipped and there will be no refund.
Q: How do I know when my samples have been issued?
A: As soon as we issue your samples you will receive an automated notification email. The email is sent to the address/es we have registered for the participant.
Q: What happens if payment of local fees/taxes/duties is requested by our Customs office?
A: To avoid delaying the delivery of your parcel our couriers have been instructed to pay any local fees requested by Custom's officers where possible. In some countries Customs will only accept payment of these fees by the consignee and they will use the telephone number on the parcel to make contact. If you receive a request for payment of fees from your local Customs office please pay them promptly so that your parcel can be released for delivery without delay. VETQAS is not able to refund any local Customs fees that you may have to pay.
Q: Seven days from the posting date have passed and my parcel has not arrived. What should I do?
A: Please email us quoting your QAL contract number and/or your Lab ID number and the name of the distribution you were expecting.
We will investigate the reason for the delay and we will extend the results entry deadline date as required.
Q: My samples were damaged or incomplete when received, what should I do?
A: Please email us immediately at Vetqas@apha.gov.uk so that we have time to arrange for a repeat set of samples to be issued.
We will need your QAL contract number and/or your laboratory ID number and the distribution number.
Q: My sample parcel was not delivered, can I have a refund?
A: Please email us quoting your QAL contract number and/or your laboratory ID number and the name of the distribution you are expecting.
Non delivery of a parcel sent by courier is very unusual. In the unusual circumstances that this happens we will send you a repeat set of samples at no extra charge.
Page last modified:06 March 2019