News
Register now for the 10th International Symposium on Avian Influenza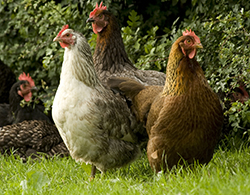 APHA is hosting the 10th International Symposium on Avian Influenza 'Avian Influenza in Poultry and Wild Birds', at the Grand Hotel, Brighton, UK, from Sunday 15 April to Wednesday 18 April 2018.
The symposium is a high profile international scientific meeting held every three years, alternately in the UK and the USA. The role of the symposium is to bring together scientists, biologists, veterinarians, funders and government regulators from all over the world to exchange and discuss current scientific information on avian influenza.
This symposium will occur at an extremely opportune time given the unprecedented global developments in the expansion of avian influenza both in range and impact across the world in the last 12 months. We anticipate this forum will be an extremely valuable opportunity to reach a broad audience who have an interest in the detection and control of avian influenza in both animals and humans. We expect around 300 delegates will attend the symposium.
The symposium is co-chaired by Ian Brown, APHA, Dr David Swayne USDA, USA and Thijs Kuken, Erasmus Medical Centre, Netherlands. A scientific committee was also formed to organise the programme and manage abstract submissions.
The programme includes 14 sessions on poultry and wild birds.
For further information and to submit papers, please visit the symposium website. We look forward to seeing you in Brighton in April.
To register your place at the event, click here.

Further information
Tel: +44 (0)208 415 2056
Email conference@apha.gov.uk
Visit the International Symposium on Avian Influenza website
Page last modified: 19 May, 2022