News
Death of Phil Wakeley, Head of Business Development at APHA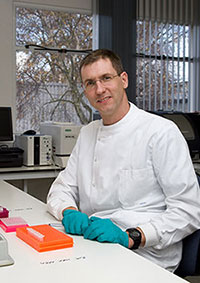 It is with great sadness that we announce the death earlier this week of Phil Wakeley, Head of Business Development at APHA. 
Phil started work for the Veterinary Laboratories Agency in 2000. He worked in Virology, Biotechnology and latterly in the Commercial Department. He published many research papers and was one of the finest molecular biologists to work for the agency. He was responsible for the creation/validation of many PCR tests in regular use within the agency today. More recently he became an expert in Intellectual Property and contracts.
His humanity and sense of humour were evident to everybody and he became friends with almost everyone he met. He will be sadly missed by all at APHA and by many of our colleagues and customers around the world.
Further Information
Visit: www.aphascientific.com
Tel: +44 (0)3000 600001
Email: aphascientific@apha.gov.uk
Page last modified: 19 November, 2018