Products and services
For scientists around the world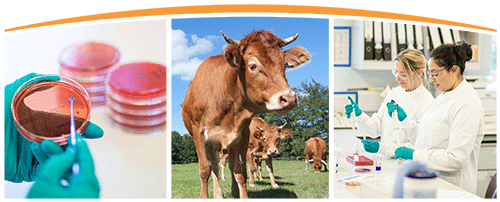 The Animal and Plant Health (APHA) is an executive agency of the Department for Environment, Food and Rural Affairs (Defra). APHA is an internationally recognised centre of scientific excellence providing a wide range of research and consultancy to the UK government and commercial customers. We specialise in diseases of livestock and plants, diagnosis of disease and surveillance of new and emerging disease.
Our scientists have had a significant influence on the development of animal health and food safety strategy in both the UK and Europe and have achieved international Reference Laboratory status for many important animal diseases.
To enhance the scientific activity APHA develops commercial products and services and makes them available to organisations globally. These are brought together under APHA Scientific to ensure the products and services are delivered effectively for customers.
APHA's mission is to safeguard animal and plant health for the benefits of people, the environment and the economy. Find out more about APHA on GOV.UK.
APHA Scientific provides business development managers, a customer service team, scientific research and reagents production groups to ensure that the products and services offered are delivered effectively to our customers. They are also able to bring scientific expertise, high quality service, innovative methods and, in many cases unique products and services to the market,
If you require further information on any products and services, please contact our Customer Services Team
Tel: +44 (0)3000 600001
Email: aphascientific@apha.gov.uk
Page last modified: 23 June, 2022